Blesta is well-written, open, and developer friendly; It is no wonder it has become the first choice among a growing number of hosting providers worldwide.
Client Management
Automated Billing
Support System
Security in Mind
Developer Friendly
Mobile Ready
Want to see it in action? Take a look at the online demo.
Blesta License
( Unlimited Users )
$
8
50
monthly
billed quarterly
Free Setup and Installation
Branding Free
Free Support & Upgrades
Latest Version
CLIENT DETAILS
Client contact details always appear in the upper left of the client's profile page, along with common actions that can be toggled between states.
ACCOUNT ACTIONS
All actions that can be performed for this client are available in this expandable section, from creating invoices, to adding services, and more.
CREDITS
Quickly see the total due and all account credits for the client in every currency the customer has used. Blesta supports true client-level multi-currency.
WIDGET BOXES
Invoices, Services, Transactions, and Tickets show a complete history of the client. Plugins can create new widget boxes to extend functionality.
CUSTOMIZE
Staff can customize the client profile page by sorting the widgets in the order they prefer. Minimized widgets show a badge with the item count.
SIMPLE & COMPLETE
Client profile pages are designed to be as simple as possible, allowing a full and complete overview of the client from a single page.
Invoices are generated automatically as services renew. You set how far in advance invoices should be generated for renewing services. Invoices can be delivered by email, queued for print & mail, faxed (through Interfax), or mailed directly (through PostalMethods).
Blesta also supports easy one-off manual creation of invoices with automatic draft saving. Try using fractional quantities like 45/60 to represent 45 minutes for hourly billing!
There are several different PDF invoice templates to choose from and invoices can be customized with your company logo and background.
Letter and A4 paper sizes are supported, as well as standard and pro-forma invoice types.
Payment Accounts are used to store credit card or ACH details encrypted locally or as just a token. Staff and clients can select a payment account to use for automatic payments.
Send up to three configurable payment reminders, before or after invoices are due. Payment reminders include a "Pay Now" link that the client can use to make payment without logging in.
More details: https://www.blesta.com/features/#ordering
The Support System includes a clean, intuitive ticket system and Knowledge Base.
Clients open tickets in Blesta or by email via piping, POP, or IMAP
Create different departments with different permissions
Assign Staff to different departments with different availability
Staff can reply to tickets by email, or through the Staff area
AJAX ticket overview automatically displays new/updated tickets
Optionally show the ticket queue full-screen – great for NOC's
Create searchable, ratable articles through the Knowledge Base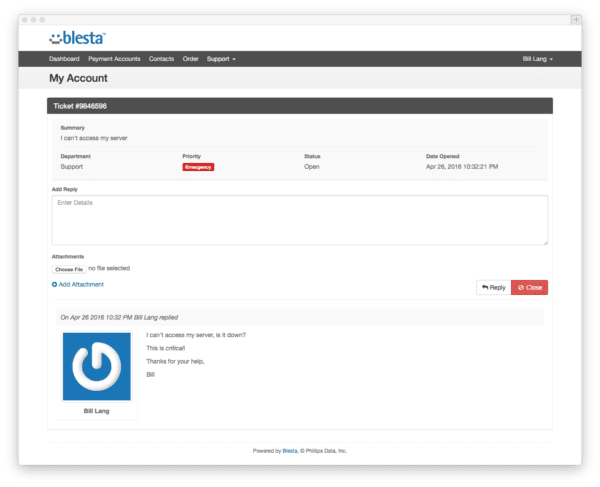 More features: https://www.blesta.com/features/