When it comes to Data Centers, we diligently choose the ones with the best location, facility, bandwidth providers and support. All our servers collocated at our chosen Data Centers can only be accessed by authorized personnel thus ensuring safety and security.
To ensure high speed, low latency superior quality bandwidth, Our data center has decided to invest in the deployment of its own fiber optics network. Managed with DWDM equipment, currently being migrated to 100G coherent technology, our network is world-wide in scope. Routing infrastructure is mostly based on Cisco products.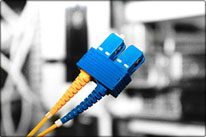 To guarantee the maximum redundancy and availability of your connection with the internet, our links are at least doubled at each step of the routing. Two Cisco routers (each with two network cards) make up the physical connection to your server. The optical fiber cabling is at least doubled, and sometimes tripled.
Present in the 13 largest Internet hubs in North America (New York, Newark, Chicago, Montreal, Toronto, Seattle, Palo Alto, San Jose, Los Angeles, Dallas, Atlanta, Ashburn). This Pan-American backbone guarantees your server's low latency and bandwidth quality.